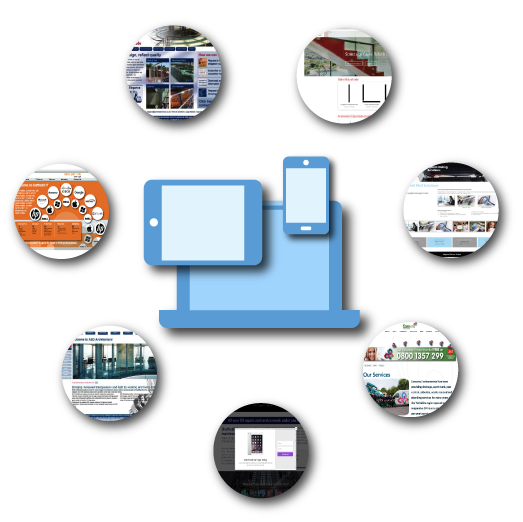 Showcasing the Soul of Your Business
Our websites communicate the essence of your brand
Call on 07507 786 590 or email for more details
Website design services that work
We work closely with you to ensure you receive a website that compliments your brand.
Website design
As an online 'shop window', your website acts to give your clients and prospects a strong overview of your business. With an easy to navigate website and strong marketing message you will engage with your viewer.
If your website is difficult to navigate or does not convey the right message, then it's time to change!
Our custom-made websites are built on the open-source WordPress platform; this gives you complete control when the website it handed over. WordPress sites have easy-to-use
Content Management Systems meaning anyone can take over the site with a little training.
Our websites are Mobile friendly, comply with minimum on-site SEO requirements and https secure with latest certificates.
Ecommerce
If Ecommerce is a consideration then look no further than utilising a WooCommerce shop front. Alternatively, we can build a custom shop to follow your brand exactly.
Ecommerce can be a complex matter, but we have a solution that is simple and effective to use. Our Ecommerce solutions utilise the latest Yoast SEO standards to get your products noticed.
We will complete all the on-site SEO required or can guide you through so you can take the site forward on your own when you feel confident. Ecommerce is a great way to cut down on costs by reducing admin but it also has other advantages when used correctly.
It can be used as a stock control or ordering system. You can even apply the 'payment up front' option to cut down on any kind of fraud you may otherwise be vulnerable to.
On-Site SEO
SEO is the most cost-effective way to ensure you keep at the top of the Google rankings. However, remember that is where everyone wants to be! SEO is an ongoing process; you need to constantly work to ensure your site is ticking the Google boxes to climb the ladder.
There are two easy ways to maintain the quality of your site's SEO.
1. Great Site Content / Structure Ensure your site has great, SEO-friendly content and meets Google minimum requirements. Always think about meta data when writing content and make sure it corresponds and works with your headers. These are but a few of the specialised areas we cover to ensure the best outcome for your site.
2. Pay Per Click (PPC)
Probably the easiest way to get to the top spot on the most popular search engines. You bid on certain search terms, you pay when someone clicks on your ad, you get noticed. It works very well as a shorter-term SEO solution.
Step 1
Sit down with our web and SEO experts to determine the most beneficial approach to building your online pressence
Step 2
Go back to your business, discuss and decide what you think is the best way forward in the development process
Step 3
Come back and talk to us. It costs nothing to chat; we will advise and guide you on what is best for YOUR business